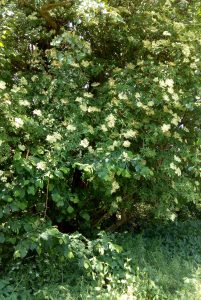 Lemonade or limbu-pani was the staple we wanted something fresh and refreshing on warm afternoons, or when we returned home from the heat outside. The plethora of fruit juices in the supermarkets these days were missing when I was a child. Come summer, there were the seasonal delights like mango juice and grape juice. For the extra thirst the year round, there was always lemonade.
Among the more unusual summer juice was the raw mango juice or Aam Panna. This was as refreshing and light as lemonade, because it was mainly water with the cooked pulp of raw mango and sugar added to taste. There was a short window of time when this greenish drink could be enjoyed.
In Germany the elderberry cordial would be the equivalent of cool raw mango juice. Elderberry cordial is made using the fragrant tiny white flowers that appear around the end of May. Elderberry flower juice or holundeer bluten saft as it is called in German is a concentrate that is diluted with water as a drink in its own right. Or it is added to alcoholic drinks like sekt, the local German variety of champagne.
Elderberry is a weedy climber that grows as part of hedges or in forest openings. I head to woods or its edges to collect these flowers. Two walks in the woods every year are dedicated to this task. I spent a lovely Sunday morning collecting them again this year. It was a sunny day, and there were elderberries everywhere in bloom, and you could smell them in the air.
The flowers are soaked overnight in water, and they lose their pollen and fragrance to the water. Sugar and lemon juice are the other ingredients. Now I have a supply of summer fragrance bottled up, that I can use through the next months. This is the main difference between elderberry cordial and Aam Panna, which we never stored, but drank immediately. Not that there was any problem finishing it.
I have never seen elderberry cordial sold in supermarkets, just as you won't find Aam Panna sold in supermarkets or restaurants, and yet they are readily welcomed by family and friends.
Everyplace has its special little treats, and I consider myself lucky to be able to enjoy both these drinks.