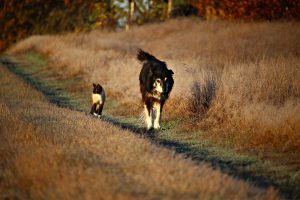 In the archipelago of Bermuda two endemic species have been threatened by domestic animals that human occupiers brought along with them.
The Bermuda Rock skink (Plestiodon longirostris) are one of the rarest lizards in the world. They are considered to be a critically endangered species living in small scattered groups; there is only one subpopulation of 240 adults that is viable and will be able to continue according to the International Union for Conservation of Nature and Natural Resources (IUCN) (1). Loss of habitats and predation by domestic dogs, cats, pigs and rats are responsible for the decline in their numbers
The second species, Bermuda petrel (Pterodroma cahow) was considered to be extinct for three hundred years due to predation by domestic animals (dogs, cats, pigs and rats) and hunting by people. 18 pairs of these petrels were rediscovered in 1951, and were conserved by an intensive program that has ensured there were105 nesting pairs by 2013 according to the Cornell Lab of Orinthology. The recovery program which is considered a global success, happens mainly on Nonsuch an island where there are no domestic animals (2).
Bermudas is not an isolated case. The IUCN considers cats as one of the top 100 invasive species that are responsible for the extinction of 14% of birds, reptiles and mammals that have evolved in islands without predators (3). The Scientific American suggests that there are just too many cats out there (4).
The impact that pets have is unfortunately not confined only to islands.
Loss and his associates have published a research paper in Nature that reports that in the USA alone, 'domestic cats kill 1.3–4.0 billion birds and 6.3–22.3 billion mammals' each year. Though un-owned cats are more responsible than owned cats, it is important to note that the scientists include farm cats, and semi-strays/pets as unowned pets. Cats are therefore the main anthropogenic or man-made reason for bird and mammal mortality (5).
The doctoral thesis by E. A. Silva, found that 180 mammals worldwide are threatened by stray dogs or semi-strays, so dogs are just as invasive as cats. According to him, 'Domestic dogs are the most abundant carnivores worldwide.' The less care and food they receive from their owners, the more dogs turn to hunting (6, page 13).
There are an estimated 600 million cats in the world, and 480 million are stray (7). The same is true about dogs. There are 600 million dogs in the world and 480 million are strays according to World Animal Protection International figures (8).
This begs the question of why people keep pets. And why so many?
This article will not explore these issue. People who have pets or plan to have pets will hopefully ask themselves these questions. Even if (prospective) owners have the means to keep many pets, they need to consider the environmental impact they can have through their pets. In places where dogs are required to be kept on lease in the developed countries, there is no restriction on the movement of cats, leaving them free to roam around killing birds and other small animals. So the responsibility is entirely the owners.
In case of dogs there is a human cost involved too. Dogs are responsible for 99% of the deaths due to rabies, and at least 15 million people are bitten by dogs every year according to the World Health Organisation (9). According to 2016 figures from the World Organisation for Animal Health 60,000 people die each year due to rabies, and most of whom are children (10).
While nobody is denying the rights of people to have pets, they need to be aware of the problems they create for others through their pets. Frequently, owners have more than one dog or cat.
Many people do not like dogs and cats and may even fear them, but have no influence over a situation that is harmful to them or the environment they care about. Animal management programs and regulations should be guided by ecological and human health issues besides welfare for the pets.
Sources
1. http://www.iucnredlist.org/details/8218/0
2. http://neotropical.birds.cornell.edu/portal/species/overview?p_p_spp=700756
3. http://www.iucngisd.org/gisd/species.php?sc=24
4. https://blogs.scientificamerican.com/culturing-science/killer-cats/
5. http://www.nature.com/articles/ncomms2380
6. Silva EA. 2012. Domestic dogs as invasive species: from local to global impacts. PhD thesis. University of Florida. http://ufdc.ufl.edu/UFE0044028/00001
7. http://carocat.eu/statistics-on-cats-and-dogs/
8. http://www.carodog.eu/statistics-on-cats-and-dogs/
9. http://www.who.int/mediacentre/factsheets/fs099/en/
10. http://www.oie.int/animal-health-in-the-world/rabies-portal/