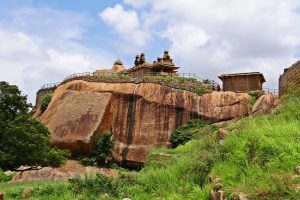 Image credits: Pixabay
It is common knowledge that loss and degradation of habitats, capture of animals and pollution are affecting forest health.  What is less known is the role that religion plays in these phenomena (1).
Some temples are known to harbour and preserve forests as scared grooves. These are vital patches of forests that have survived deforestation for agriculture and settlements for centuries. However, the increase in mobility brings more and more pilgrims to these fragile forests impact them in various ways.
To facilitate these visits the temple authorities often cut down patches of forests to make way for new shrines, or concrete dining and resting places. Some adventurous pilgrims, venture into the neighbouring forest growth, sweep the forest floor clean of leaves, twigs and fallen branches that normally form valuable humus and feed the trees. Swept away are also all the seeds that could ensure next generation plants. The forests around the temples start resembling parks.
This is a process one sees in the tropical dry evergreen forests patches along the Coromandel Coast. New shrines start as open air temples with an idol, and an attendant priest who clearly earns his income from the new development. With increasing patronage, more and more concretisation occurs with associated ripples of forest degradation.
It is not easy to convince the temple authorities to change, as these scared grooves are private temple properties and do not come under the jurisdiction of the Forest Department.
The fate of forests that do fall under government control is not much better. The Forest officers in Sabarimala are not able to stop littering in the reserved wet rainforests one of the biodiversity hot spots in the world (2). Salty foods inside plastic bags have proved irresistible to animals, including elephants. Though the forest department makes an effort to collect litter from the roadside, any plastic wrap smeared with food that is blown into the surrounding forests are eaten by animals with disastrous consequences.
The latest report by Times of India that an elephant was found dead near Sabrimala because its vital organs had failed due to consumption of plastic is of great concern. Moreover, this is not the first animal that has suffered this fate (3).
There are many scared temples seated in the middle of forests atop hills and mountains, that pilgrims like to reach on foot (Pada Yatra). Temple authorities provide lighting for the convenience and safety of travellers. This light achieves its purpose by driving animals away from the road. However, for the nocturnal animals this means their path across this road is cut, and the light pollution is a form of stress for them (1).
Aside from these impacts, temples also unfortunately are involved in capturing wild animals. The largest temple in India the Tirumala Tirupati Temple/Devasthanam uses punugu, an aromatic secretion from the small Indian civet to anoint the statue of the deity. To do this they had earlier held many civet cats captive at the temple to be able to collect and use the secretion. According to Scroll, in 2013, the Forest Department filed a criminal case against the temple for violating the Wildlife Protection Act of 1972, as the act outlaws domestication of wildlife. The court hearing four years later ruled in favour of the temple (4).
This happened at a time when the right-wing Hindu party BJP has been ruling at the Centre, and parties and clubs associated with the BJP have been murdering people in the pretext of protecting cows. These groups' passion for nature unfortunately is focused only on cows, not to mention a disregard for human life.
Pilgrimage may well have been the ancient cultural way to get people in India to travel and broaden their horizon. This right cannot be denied to modern Hindus. However, it is necessary to educate people of the consequences of their action, given the change in life styles and use of modern materials. Some bans against plastic use, and other changes in behavior are vital. People who are on a pilgrimage surely would be open to considering philosophical questions and their place in the world and nature, and hopefully their responsibility to limit the damage they carry in their wake.
It is necessary to first create awareness among temple authorities so that they agree to introduce and implement measures that protect nature around them and in their care. This could well make nature conservation in the day to day life of people after the pilgrim also a possibility, if people remember lessons learned in temples.
Source
Patange, Priyanka & Dandapani, Shrinithivihahshini & Mahajan, D. 2013. Pilgrimage and the environment: Challenges in a pilgrimage centre in Maharashtra, India. International Journal Of Environmental Sciences. 3: 2269-2277. 10.6088/ijes.2013030600043.
https://timesofindia.indiatimes.com/city/thiruvananthapuram/pilgrims-must-keep-forest-discipline/
https://timesofindia.indiatimes.com/city/thiruvananthapuram/plastic-waste-kills-elephant-near-pamba/
https://scroll.in/article/831827/religion-versus-conservation-tirupati-temple-forest-department-fight-over-the-indian-civet