Vijayalaxmi Kinhal is a freelance science writer and ecologist who uses her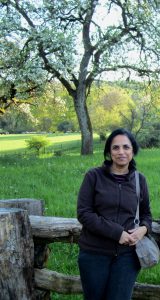 expertise in ecology in finding solutions for the intricate and interconnected environmental challenges facing our planet. After working for 20 years in the non-profit sector, Vijayalaxmi knows it is not enough to cry wolf, and that providing alternative solutions is the way forward to achieving sustainable change.
Vijayalaxmi has self-published an e-book on positive relationships in nature. As freelancer she has written more than a hundred articles dealing with environment protection and organic farming. Her doctoral research produced three peer-reviewed articles, one of which appeared in an Oxford University publication.
Vijayalaxmi grew up in urban India which is a world apart from its rural counterparts. Long train journeys during vacations gave her the first glimpses of nature that enthralled her. So as a child she had already resolved to leave the loud and crowded cities for life in the countryside.
Her affinity to nature also guided her professional education from a B.Sc. in Agriculture, to a Ph.D. in Forest Ecology.
Vijayalaxmi has 15 years of work experience in forest restoration, biodiversity conservation, natural resource management, livelihoods, and organic farming in India and five years in women empowerment. Early in her career she helped her team achieve a prestigious national award for afforestation in India.
Vijayalaxmi took to freelance writing in 2015, after she relocated to Germany with her family. Far from the tropical forests and degraded lands she had actively engaged with, writing seemed a perfect way to continue working for environment protection.
A village tracing its origin to the eighth century surrounded by tall and magnificent mixed forests is now her new home.